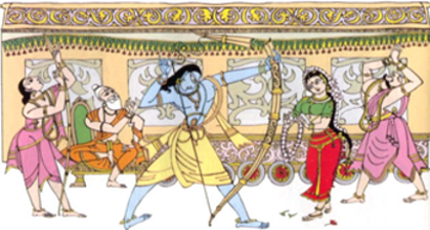 Artist Bapu's vision of Sita Swayamvara.
Very early in the morning, I begin to hear strains of Puja stotras and Rama bhajans from temples and households. A peek outside gives me glimpses of women cleaning the front of their gates and doors and decorating with rangavalli.
It is Sree Raama Navami, the day on which he was born and also the day of Seeta & Rama's
marriage. The classic song 'Seeta Kalyaana Vaibhogame'
( the splendour of Seeta's marriage) is heard on virtually every marriage pandal in South India and elsewhere. On the day of their marriage, every bride and groom is the embodiment of Seeta and Rama/ Goddess Lakshmi (goddess of material and spiritual wealth) and Lord Vishu (the Lord who is the personification of the Universe and also its preserver/protector). And the witnesses of such a marriage are akin to the great seers and Vedic rishis of yore, who attended the marriage of the Goddess of the Earth to the God of the Universe in the human form.
Tuning our minds to that all-pervading Divine presence, visualizing that splendour, that glory, having prepared in anticipation for the last eight days with fasting and worship, today we take ritual oil baths and make preparations for welcome, the ceremony and the wedding feast of the very embodiment of sacredness.
Nagole Satsanga Group's 'Common Kitchen' making Nivedana at
'Sree Raama Namam Maruvam Maruvam...." Bhadrachala Ramadasa Keertana
God is spirit, and those who worship him must worship in spirit and truth. —John 4:24 NRSV
The Lord is a stronghold for the oppressed, a stronghold in times of trouble. And those who know your name put their trust in you, for you, O Lord, have not forsaken those who seek you. —Psalm 9:9–10 NRSV